Who is Equi-P
We specialize in the construction of durable, safe and maintenance-friendly riding surfaces for both professional and recreational riders.
Our home base is in Roeselare (Belgium), but we are also active in the Netherlands, France and the United Kingdom.
Thanks to our many years of experience and close cooperation with veterinarians and professional riders, we perfected our own unique ebb and flow system, which now enjoys international recognition. Our customers can always count on a permanent team of employees who respond quickly and smoothly to all questions.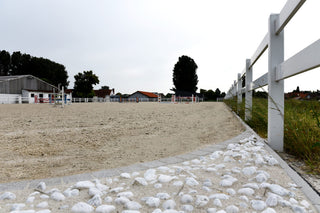 Specialist in ebb and flow
That is why you can come to us for a DIY package with which you can build your ebb and flow arena yourself. And of course we will not leave you to your fate. We are there for you if needed. In addition, we are also available for the implementation of projects from A to Z.
Contact details
info@equi-p.be
Babillie Street 4
8800 Roeselare
+32 475 60 97 35